The Career Match quiz is designed to help you understand what careers you are wired for.
It gives you valuable insights into your personality traits based on the Big 5 Personality Traits, which employers often consider during interviews.
Understanding your personal strengths and challenges you can experience form others can empower you to excel in your job search and perform exceptionally well in your desired career.
By analyzing your answers, our quiz determines how you rank on the key traits relevant to various professions. We then provide you with personalized career options that fit your personality well.
Discover which type of career would be the most engaging and fulfilling for you to pursue.
Start Quiz Now
Click on 'Get Started' button to begin
Simple

Rank Statements about you

Quick

4 MINUTES TO GET RESULTS

Unique

For Best Results Be Yourself

Free

The Quiz Costs Nothing
How does this quiz determine the right career match for me?
Our quiz asks you questions that measure your inner personality traits, strengths, values, and interests. It uses your scores and results to match you with a list of ideal careers.
As mentioned, our quiz is based on the Big 5 personality test, the scientifically validated model for career planning. It breaks the personality down into five traits: Agreeableness, Conscientiousness, Extraversion, Openness, and Stress Tolerance. 
For the past 20 years, Innate has profiled thousands of top performing employees in hundreds of careers using the same trait scoring system.  Based on your trait scores, you will be matched to specific careers that top-performing employees are engaged and fulfilled in.
Employers actively try to determine where you stand regarding those Big 5 traits (one of the reasons why they're asking so many weird questions when interviewing). 
Who is this career quiz designed for?
Older individuals who will be staying with their employer until retirement aren't going to benefit as much, but millennials, Gen Z, and future generations have a lot to gain by taking our test before starting a job hunt. It simply helps you understand how you're hard wired, screens out careers you'll be miserable in and presents careers you'll be engaged and fulfilled in. 
What will my results look like?
Your results will give you various job suggestions that match your personality. However, we focus on industries and general fields to give you room to find the perfect job for your interests. After all, that's how you find a career you want to stick with. 
Here is a sample of the results: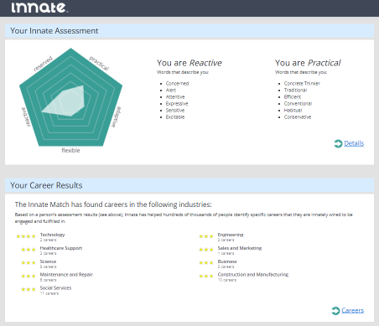 Is this quiz accurate?
Yes. Based on your trait scores, we pinpoint your personality strengths and challenges and compare them to proven, tested, career profiling data to find fields that match you.
Why should I trust my career results?
Our suggestions don't point you toward specific positions. We match your personality to tested data across all industries and compare it to what hiring managers look for. We're focused on helping you find a fulfilling career you'll succeed in. 
How long will the test take?
This depends on your reading speed and how much effort you put into answering truthfully, but it usually takes less than 4 minutes. 
Is it COMPLETELY free?
Yes. You will not pay a single dime to take our quiz or see your results. 
What makes Innate unique and reliable?
Competing services tend to draw you in with free quizzes and then push fees on you for your results. We are completely free.. Our 20 years of career profiling expertise using the leading time-tested personality assessment (Big 5) is what makes us unique, and our rankings match the most reliable.
Find your perfect career match!